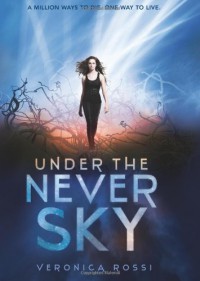 I was so pleasantly surprised by this book! I actually borrowed it from the library a few times before I finally decided to give it a chance. And I'm so glad I did. The writing was really excellent, the story was entertaining, and for the most part I found the characters quite engaging.
For the first half of the book, Aria was a little hard to relate to or sympathize with due to the fact that she was just so incredibly naive/ungrateful/everything you would expect from a spoiled, sheltered teenage girl. But I forgive her because
that's the point.
Perry was... actually a surprisingly complex character, and not just in the damaged, broody emo teenage way. I really enjoyed his chapters, and he made me laugh more than once. I look forward to seeing what becomes of him in the next book. And then there's Roar. Omg, Roar. I didn't realize what the book was missing until he was introduced. I was SO relieved that he wasn't killed off. I really thought he was going to be one of those charming, lovable best friend characters that gets ruthlessly slaughtered because the author has got to prove that shit's real out there and people
die.
But. Sigh. Team Roar all the way.
The lack of back-story and world building really didn't bother me. I feel like it's something that will be explored later on in the series. I admit that I did have to flip back a few times, thinking that I'd missed the explanation for things like the aether and the smart eye (I
still
can't picture what they might look like.) But I trust all will be revealed in time. What we know of the realms and the unity and of Aria's world gave me chills. Legit. It's a believable future, in the horrifying, omg-we're-already-on-our-way-there, sci-fi kind of way.
I cannot wait to get my hands on the next book in the series. Rossi tied up enough at the end of this book to satisfy, and left just enough hanging to make me desperate for more.